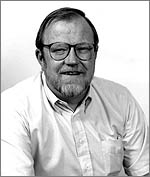 The William B. Gudykunst Outstanding Book Award
This award recognizes the best book in intercultural research written by a member of the Academy. The award has been established in memory of William "Bill" Gudykunst (1947-2005). Bill was a pioneer and an outstanding leader in the field of intercultural communication. Bill's theory of Anxiety-Uncertainty Management (AUM) continues to be one of the most influential theories for intercultural researchers. Bill authored or edited 31 books and monographs including Intercultural Communication Theory, Intergroup Communication, and Communicating with Strangers (with Young Yun Kim). For his extraordinary scholarly achievements, Bill received numerous awards, and was named a Fellow of the International Communication Association. Bill was a charter fellow and a dedicated member of the Intercultural Academy for Intercultural Research. He hosted the Academy's first conference in 1998 on the campus of California State University-Fullerton, where he was a professor of Human Communication Studies and acting coordinator and graduate advisor of the Asian American Studies Program.
Nomination requirements and procedures:
The award is given every two years at the biennial conference to a book published in the previous two calendar years. For the 2017 award, the selection committee calls for nominations (including self-nominations) for books (including edited books) written by members of the Academy and published in 2014 to 2016. The first award was given in 2013 to Dan Landis and Rosita Albert for their co-edited book, Handbook of Ethnic Conflict: International Perspectives, published by Springer, 2012.
The selection committee assesses each nominated book on several criteria including: (a) the importance of the issues it addresses for intercultural research; (b) the strength of the argument and evidence it presents; and (c) the originality of ideas and insights it offers for the advancement of intercultural research.
1. In nominating letters, specify why the book should receive this award by addressing the three selection criteria listed above.
2. Where possible, provide available supporting evidence of the book's quality from independent sources such as published book reviews.
3. All nominating letters and supporting materials must be submitted electronically as PDF files to the committee chair, Dr. Rosita Albert (alber001@umn.edu), by March 15, 2017.
4. Arrangements must be made with the publisher of the nominated book for hard copies to be shipped to the following committee members at the addresses provided below. All copies of nominated books must be received at these addresses by March 15, 2017.
Dr. Rosita Albert
15 South 1st Street
Apt. A-1120
Minneapolis, MN 55401
USA

Dr. Cookie Stephan
2097 Aliali Place
Honolulu, HI 96821
USA

Professor Jane Jackson
Department of English, FKH 307 Building
The Chinese University of Hong Kong
Shatin, New Territories
Hong Kong SAR
China

Prof. Ida Castiglioni, Ph.D.
IDRInstitute Europa
via Francesco Arese 16
20159 Milano, Italy
Judith Martin, Prof. Emerita
Arizona State University
School of Human Communication
Box 871205
Tempe, AZ 85287-1205